This is the story of Oliver, the stray cat, who on his arrival in paradise choose us to save his life. We couldn't let him die. And I am sure you wouldn't either. I got so many lovely replies on a blog post I wrote right after his arrival here, but today is the right time to tell you the story of his survival.
Oliver – we call him Oli – appeared one Sunday afternoon, he couldn't eat, had a bubble in front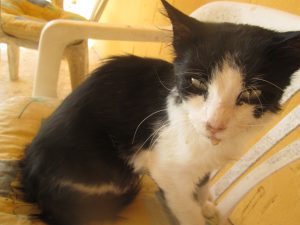 of his mouth and was bent over with pain. What would you do in this case? We decided to bring him to the vet – and we needed to leave him there for a whole week. He needed urgent surgery because his mouth was full of infections and the gums partly necrotic.

 
 
 
 

Don't be shocked to take a closer look. This photo was taken by my veterinarian Dr. Elisabetta Scorzoni during surgery where she extracted 5 teeth and cleaned the gums. The operation went well and, with the help of painkillers, the poor boy was able to eat very soon. The healing went quite well in regard to the gums, but there was still inflammation in the bones, which is a little concerning.
Of course, antibiotics are a huge help in that. Actually, I am still giving him a shot every day, 2 weeks after surgery, and I will have to continue for a while.
Oli's spirits came back rapidly. He is a lovely gentle guy, but with his teeth deprived mouth he can also look very aggressive, which in fact he is not.
He got better and better every day and, after being groomed, began to look like a normal cat, still very skinny, but happy to be alive. 
 

This video was taken in the veterinarian's while I was on my birthday celebration weekend in the South of Italy. As soon as I was back we went to get him and to bring him home where we already have 5 cats of our own and a black dog. Read about Oli's arrival in Paradise and in his new life in my next blog post! (Btw. the place where I live in Italy – and which has become the new home of Oli – is called "Paradiso Integrale")