Is grooming cats normal?
I first heard about grooming cats of a student of mine whose fluffy cat one day looked tiny and more like a mouse than a cat. She cut its fur completely off because she believed it better for the cat in the Italian summer heat. I found it a little strange. WHY WOULD YOU DO IT? Is shaving or grooming cats really an option?
My cat-hair-problems
I had  2 long haired cats. Tommy died 2 years ago (sad) and I regularly cut bubbles out of his fur, sometimes his belly was naked, because he collected every seed on the fields, wherever he went. I hadn't thought of grooming him, though.
Now Luzzy, the yellow-white kitty, the sweetest cat on the earth. His long hair has a different texture than that of Tommy and it bulks together in a different way. I spend evenings with him, on the sofa, and pull on his hair gently, until whole flakes fall of. And, btw. he does it often for himself, I find his white hair everywhere and every morning.
Why did I decide to cut Luzzy's fur off?
One thing, Luzzy got tired of me pulling on his fur whenever he wanted to cuddle with me. He often left – would you stay when somebody is continuously pulling your hair? I didn't want to destroy the beautiful relationship we have.
And the other thing: small and big pieces of nasty dry seeds are no fun to carry around. When they stick to my trousers and socks, it is very itchy, unpleasant. And I imagine that it is not much different for our pets, cats and dogs alike.
The appointment at the pet-coiffeur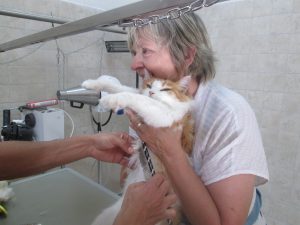 Luzzy was calm, didn't really need to be held with the chain – but a professional needs to be cautious. Roberto was a very gentle catlover and he suggested to just groom the fur instead of cutting everything off. But how would he do that? With scissors? No! He had an amazing tool which I didn't know so far, a cat groomer. He took care for the hair, Luzzy purred and really enjoyed it after the initial phase of suspicion and fear. And I liked it, too. It was a huge demonstration of Luzzy's trust.
The Pet Hair Trimmer you might want to get for your cat (or dog)
If you want to have your cat's fur nice and clean and you want to do it yourself, you might give a look at the following article, available at Amazon. It is easy to use – but you need to be careful and go slowly for not hurting the delicate skin of a cat. Your cat will like it and for quite a while the fur is so neatly set up in ways that the nasty seeds or whatever find no way to get picked up.
Check out the following links:
A Professional Grooming Tool to Make Your Cat Purr
The perfect grooming tool