Cats and human history – as explained by Els Vink
Cats were consid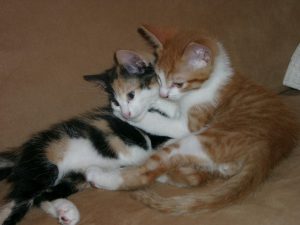 ered a magic animal in many cultures, like Egypt and others. your cat is a descendant of that sacred and magical animal in human history.
Els Vink, a superb painter living in Italy, is inspired by the history of cats and shares with you here her take on this topic:
Our Cat 'Pussar'
This wonderful tiny female cat was born in Denmark, her name means 'sweetheart'. We adopted her, together with her brother, a red tom-cat in 2003 when we lived in Copenhagen. They were absolutely adorable, both very easy-going, lovely caracters, always playing together and so incredibly trusting – we could go out on the street and they would simply follow us: tales up!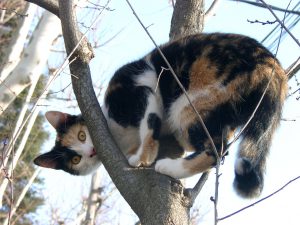 When some two years later we had to move to Spain, something terrible happened. Just one month before departure, the brother called Thor (the Viking God) disappeared. We tried everything to find him, but to no avail. Perhaps he was caught by a fox, we had many around in our neighbourhood at the time. One will never know. I was heart broken.
Pussar moved to Barcelona with us, and after that, to Italy. Being a cat from the north, she can't take the summer's heat too well. It gives her all sorts of skin problems, lots of itching, you can tell by her behaviour she's not at her best. Ah, but when winter comes…she always climbs on our lap, loud purring. She is a fantastic 'mouser' too! Keeps our house in the country mice and rat-free.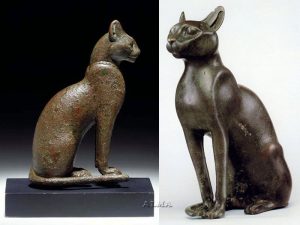 We love our cats (and dogs!) All through the ages of mankind they have been our companions. This is often reflected in art. In Egypt 3000 BC, when the cat was highly respected and revered, they even mummified them after they died, to ensure an eternal afterlife.
In the Middle Ages the cat did not have such a good name. They associated the animal with witchcraft and the devil.
Thankfully, after this dark period the cat is back on its pedestal, and is depicted in many glorious ways!
Leonardo da Vinci, who said that "even the smallest of cats is a masterpiece" (16th century) left this drawing study of cats.
The cat spread from Egypt to Europe, the Greek and the Romans brought them over to help battle with their rodent problem.
Judith Leyster, painted "a young man petting a cat" in the 17th century. A time when cats were indispensable on the ships sailing to the new world and the
east.
In China, the cat was in the beginning only for the Emperor. Later also for the nobility and much later also for the common people.
In the 19th century, one cannot miss out the paintings of Henriëtte Ronner-Knip. She was very trendy in her time, when it was very hip to have a cat painting in your 'salon'
Pablo Picasso made "Cat with catched bird" in the 20th century. In our contemporary times, this fascinating creature is still a source of inspiration for many an artist.
Calvi dell'Umbria, September 2016 Els Vink
More Photos of CATS IN ART